Posted by Andy Benoit

The NFL has announced the AFC and NFC Pro Bowl rosters. Snubs are an inevitable part of the equation each year. Below are the key names left out, with an explanation for why.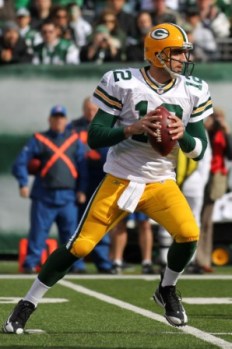 Aaron Rodgers, QB, Packers

A simple case of too much talent at one position in the NFC. Vick, Ryan and Brees all play for teams with better records.

Chris Johnson, RB, Titans

Same story as Rodgers: MJD has been an MVP caliber contributor for the Jags, Arian Foster is the league's leading rusher and Jamaal Charles is to the Chiefs what Johnson is to the Titans (the only difference is the Chiefs have won this year and the Titans haven't).

Andrew Whitworth, OT, Bengals

Cincy's left tackle was the surprise leader in fan voting at his position, but clearly players and coaches did not think as highly of the former guard/right tackle. No surprise – offensive linemen from bad teams generally don't become first-time Pro Bowlers.

Ben Grubbs, G, Ravens

How in the world does Logan Mankins make it when he's only played eight games? (Keep in mind, when fan voting closed last week, he had only played seven games). Mankins has been the best guard in football when he's been on the field, but that hasn't been often enough this season.

Olin Kreutz, C, Bears / Scott Wells, C, Packers

Kreutz has not been dynamic this season, but the man who got his Pro Bowl slot is Shaun O'Hara. O'Hara has played in just six games. SIX! And the last two weeks have indicated that the Giants are actually worse with him in the lineup New York's rushing attack was rolling with Rich Seubert at center, but it stalled once O'Hara returned.

Kyle Williams, NT, Bills

A lot of people have been trumpeting the undersized but energetic fifth-year pro, but the harsh reality is you can't honor any member of a Bills defense that ranks a distant 32nd against the run and 27th in total sacks. And there's absolutely no arguing that Williams is better than Wilfork, Seymour or Ngata anyway.

Jonathan Babineaux, DT, Falcons

The defensive tackle position in the NFC was a case of a player from a high profile team (Jay Ratliff, Cowboys) getting recognized ahead of a more deserving player from a lower profile team. Babineaux has been a beast for a Falcons defense that relies heavily on big plays from its front four. Ratliff has had his worst season in three years. St. Louis' Fred Robbins also got snubbed here.

Tamba Hali, OLB, Chiefs

LaMarr Woodley and Shaun Phillips got snubbed, too. But what are you going to do? We knew there would be this issue with the OLB position in the AFC – there are simply too many stars this year. The Pro Bowlers at this spot, Harrison, Wake and Suggs, are all deserving.

Lawrence Timmons, ILB, Steelers

Steeler coaches said he was the best linebacker on the team this season. The best linebacker in Pittsburgh rarely gets overlooked, especially when the team is a Super Bowl contender. But it's hard to edge out Ray Lewis. And the AFC's other ILB, Jerod Mayo, has been spectacular in New England.

Brent Grimes, CB, Falcons

DeAngelo Hall had one amazing second half earlier in the season against the Bears…and that was all it took to get him to Hawaii. Four of Hall's six picks on the year came in that game. For the rest of the season, when he wasn't making his two interceptions, Hall was missing tackles and giving up completions in man coverage. Grimes, on the other hand, has been a playmaker (five interceptions) AND a stopper. Heading into Week 16, opponents had completed just 47 percent of passes thrown against Grimes.

Roman Harper, SS, Saints

Harper is the key to many of Gregg Williams' blitz packages. The NFC's Pro Bowl strong safety, Adrian Wilson, is a big-name player but very limited cover artist.


For more NFL news, rumors and analysis, follow @cbssportsnfl on Twitter and subscribe to our RSS Feed .