Posted by Andy Benoit

Scanning my Google Reader Friday morning, a headline from
Joe Reedy on Cincinnati.com
grabbed my attention. On first glance, the first two words in the headline looked like the name of my CBS NFL blogging colleague and podcast partner. The headline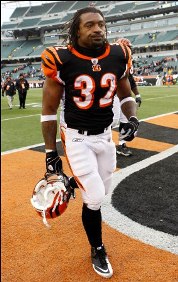 read: Will Benson stay if Bratkowski goes?
Glad I clicked on the article. Reedy offered up an interesting (and informed) opinion. Benson, a free agent to be, will likely leave the
Bengals
if changes aren't made to the offensive coaching staff. The veteran running back was not happy with the offense shifting to more of a pass-oriented approach in 2010. Can't blame Benson, really. He rushed for over 1,200 yards and the Bengals won the AFC North in '09. Then he reaches a contract year, the team makes him priority B and the losses pile up. Those events are not necessarily related, but it's understandable if Benson perceives them to be.
On Monday, Benson said, "There is a time for change and I think now is a pretty good time. We found ourselves being very successful a year ago and kind of didn't master the thing going into this year that made us successful the previous year. Somebody missed that somewhere."
The data agrees.
If we're to believe the latest report from former Bengal and, now,
AllProBlogger.com contributor John Thornton
, Benson is likely gone. Thornton writes that no changes are expected on the offensive coaching staff. Of course, the man calling the plays in '09 was also Bratkowski. Perhaps Bratkowski will be willing to recommit to the run like he did prior to this past season. It's not inconceivable that the play-caller could go back to the power approach. Will Benson be willing to take the risk of sticking around and finding out?
For more NFL news, rumors and analysis, follow

@cbssportsnfl

on Twitter and subscribe to our
RSS Feed
.