Posted by Josh Katzowitz
The
Broncos
have found their next head coach.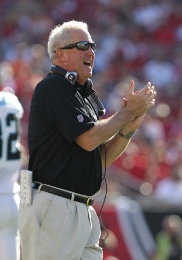 After three days of trying to reach Denver and failing because of the weather conditions, former
Panthers
coach John Fox apparently made a good impression when he finally reached town, and he's been hired to coach the Broncos.
Wrote team executive vice president John Elway on his Twitter feed: "Coach Fox is a great fit for us not only with his coaching ability but also with his personality. He is a dynamic and proven leader who will energize our entire organization. John has coached great defenses, turned teams around and been to Super Bowls. We couldn't be more excited to have him lead the Denver Broncos."
The Fox hire is a big win for Denver, which has been on a roll lately. The Broncos hired the ever-popular Elway to head the personnel department, they kept the job search completely transparent for their fans and they hired the most-proven head coach that was on the market (not counting guys like Bill Cowher and Brian Billick, who aren't really on the market at all).
Fox did wonderful things in Carolina, bringing a strong defense to the club and getting the team to a Super Bowl. He didn't have much to work with in Carolina the past couple years, especially when it was clear Panthers owner Jerry Richardson was willing to let his contract run its course, but he remained a very respected head coach.
Unlike the
Browns
– who might have hired a solid guy today in Pat Shurmur while also bringing in a guy with almostn no name recognition – the Broncos should excite their fan base with this selection.
With just 10 minutes to reflect, this seems like a very good hire that could turn out to be worthy of turning around the entire organization.
For more NFL news, rumors and analysis, follow @cbssportsnfl on Twitter and subscribe to our RSS Feed .