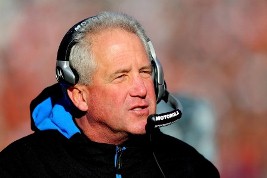 Posted by Josh Katzowitz
Earlier, we told you about the introductory news conference of new
Browns
coach Pat Shurmur and how
he was mostly dry and matter of fact.
By contrast, new
Broncos
coach John Fox, in his introductory presser this afternoon, spit out a few one-liners, smiled easily and seemed awfully comfortable in his new element. In effect, he looked confident. Like he's the guy who can turn around the organization. Like he's the one – and maybe the
only
one – who could make it happen.
He certainly convinced John Elway of that.
"I'm excited," Elway said before introducing Fox. "I really feel like we got our guy. He's a dynamic leader. A guy that has energy and a guy that gets the most out of his players."
To prove that, Elway said he received text messages from Fox's former players who told him how much they loved playing for Fox. Meanwhile, Fox said he was excited to start over after a forgetful 2010 in Carolina. And he looked the part.
"I wanted to jump back in and erase (2010)," Fox said. "It'd be no different if I was here and we finished with that same record. I'd be just as enthusiastic."
There's also the
Tim Tebow
question. How would Fox use him? Would they get along?
Turns out, Fox got to know him during last year's lead-up to the Draft, and when the two went out to dinner, Tebow offered to pick up the check. Tebow, Fox said, is the only pre-draft player ever to offer that.
"I had a great privilege to meet with Tim Tebow and have dinner with him," Fox said. "I had a great connection with him. I had a great talk with him (Thursday). The guy is a player. I've had a chance to review some tape of him from late in the season. I think he's got work to do. He knows it. But one thing is that he'll do whatever it takes. He's got as good as intangibles as any athlete I've been around."
Fox was also asked about his offensive philosophy.
"Being a defensive coach for most of my career, you understand what's difficult to defend," Fox said. "You see a lot of teams who have success offensively, you have to be able to do both (run and pass). You can't be one dimensional. I don't want to sit here and paint a picture where we're not going to be creative and exciting. But you have to have to balance, because that's been successful in the NFL."
For more NFL news, rumors and analysis, follow @cbssportsnfl on Twitter and subscribe to our RSS Feed .