Posted by Andy Benoit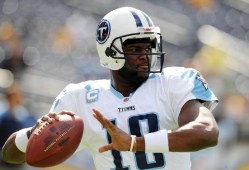 Vince Young sat down with ESPN's Marcellus Wiley to do his first major television interview since being told that he would be dumped by Bud Adams and the Tennessee Titans. (The move can't technically happen for a few more weeks.) Young was asked if he could join an NFL team as a backup.

"I'm going to go into the organization, the team, and compete. That's all I can do, and let them make their own decision after that," Young said. "Definitely I am a starting quarterback, an elite quarterback in the NFL. I want to go ahead and start. But like it always is, the coaches have the last word."

Young admitted that he and Fisher did not have jiving personalities, but he backed off his original accusations that the head coach didn't always trust him.

"It goes back to communication," Young said. "Our chemistry should've been a little bit better ... That's why the season kind of finished like it was."

Young also talked about Adams' decision to cut ties. "It's a business decision he had to make for his organization, which I'm OK with, and I think it'll be the best for both of us," he said.

For more NFL news, rumors and analysis, follow @cbssportsnfl on Twitter and subscribe to our RSS Feed.