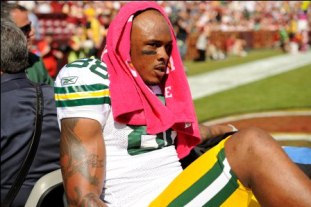 Posted by Josh Katzowitz
When LB
Nick Barnett
and TE
Jermichael Finley
discovered they weren't invited to participate in the official team Super Bowl photo next week, they were clearly disappointed. They immediately took to their Twitter accounts to show their displeasure.
Barnett called it "sad,"
and
Finley said it was "not cool"
.
They weren't nasty about it; but they clearly were hurt and felt disrespected nonetheless.
But, simply put, there are too many players on IR (15 in all) to put them all in the same photo with the rest of the team. That's the
Packers
stance anyway.
"It was a team decision driven by the sheer number of players on IR. Our primary focus is to get the team ready to beat the Pittsburgh
Steelers
. Every decision we make is about trying to win a world championship," a team spokesman said in a statement to the
Green Bay Press Gazette.
According to the paper, the IR players won't travel to Dallas until Thursday. The rest of the team will have already been in town three days by then, and the team photo is usually taken at Media Day, which is scheduled for Tuesday. But the injured players
will
stand on the sidelines during the game and be afforded the same benefits their teammates receive.
But the lack of a photo, because there are too many injured players, has to be a real kick in the torn ACL.
Fortunately, the players backed off a bit from their statements on Tuesday afternoon.
"I was not trying to be a distraction nor was I downing the organization they have done so much for me," Barnett wrote.
"This next two weeks is about the unbelievable success of my teammates and last thing I want is to be (is a) distraction," Finley wrote.
Sounds like the Packers haven't heard about the latest photographic technology that could accommodate everybody that played on their team this season.
I think it's called "wide-angle lens."
For more NFL news, rumors and analysis, follow @cbssportsnfl on Twitter and subscribe to our RSS Feed .