Posted by Andy Benoit

This summer, Plaxico Burress will once again be a free man. And, a free agent. After serving a two-year prison sent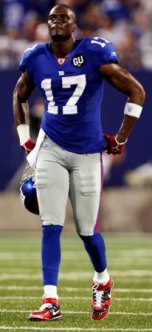 ence on weapons charges, the former
Giants
wide receiver will be released and looking to renew his once-glistening NFL career.
On Showtime's Inside the NFL Wednesday night, Burress' agent, Drew Rosenhaus laid the groundwork for the publicity campaign that he'll orchestrate for his polarizing client. "I am not a big advocate of making predictions on teams because so much can change," Rosenhaus said. "But I am not afraid to make the following prediction; Plaxico Burress will be playing in 2011. And he will play very well. And it will be a very happy ending to a very tough, tough story for him."
Undoubtedly, between now and summer, all 32 teams will at some point have to publicly declare whether they have any interest in Burress. (The
Ravens
, who signed Donte' Stallworth after his incarceration and NFL-mandated suspension, got the ball rolling by addressing Burress a few weeks ago. Head coach John Harbaugh essentially said he'd have to wait and learn more about Burress.)
Most if not all teams will play the "wait and see" card. As was the case with
Michael Vick
, teams' hope for Burress is that he has changed as a person but not as a football player.
No need to speculate on how prison has impacted Burress personally (we'll assume he has a new perspective, sense of humility and all that other jazz). What about physically?
The man will be 34 next August. When Vick came back, he was 29. But it's possible that the rust from Burress' layoff – and there will be rust; even Jamal Lewis struggled after spending four months during the'05 offseason behind bars – will wear off quicker than Vick's. Or, better stated, Burress can compensate for his rust easier than Vick did.
Burress was never touted for his speed and quickness. His greatest asset was his size (which prison won't impact) and strength/physicality (which he'll have to regain). The wide receiver position is much easier to relearn than the quarterback position – especially when you're a jumpball-based possession receiver.
That said, if a team was interested in signing a controversial veteran receiver, why wouldn't they reach out to a
Terrell Owens
or a
Randy Moss
? At least those guys have been in the league the past two years. Then again, Burress won't be near the headache that he once was and that Owens and Moss still are. After all, he'll have no leverage and everything to prove.
For more NFL news, rumors and analysis, follow

@cbssportsnfl

on Twitter and subscribe to our
RSS Feed
.