Posted by Andy Benoit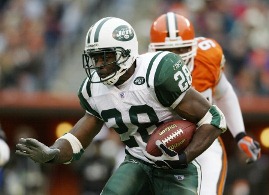 Every year the Hall of Fame announcement leaves a handful of elite all-time players on the outside looking in. This was especially true this season.
Michael Wilbon of ESPN
wrote beforehand that all 15 HOF finalists were worthy of enshrinement. Whether you agree with the extremism of Wilbon's position or not, we can all agree that this was an especially competitive HOF class.
But the key problem for those who did not get in this year was not the fact that there was a thick crop of very deserving finalists (though that was certainly a factor), the problem was the amount of position overlap.
There were four pass catchers up for consideration, four defensive linemen and three running backs. You have to assume players at the same position were pitted firmly against each other at some point during the voters' seven-and-a-half-hour debate. The principle of split votes naturally comes into play.
Plus, normally the Hall of Fame debate involves position vs. position discussions. (Example: do we prioritize a wide receiver over a linebacker?) That issue will always be relevant; this year, voters had to first figure out who was representing the position. Say a wide receiver is deemed more important than a linebacker. OK…now, is a second wide receiver who was almost as great as the first wide receiver more important than a linebacker? If that second wide receiver had been compared to that same linebacker, but the first wide receiver had never entered the discussion, the second wide receiver would look a lot better. It's just simple subconscious behavior.
This issue of position overlap likely worked against Curtis Martin, Jerome Bettis, Cris Carter, Tim Brown, Andre Reed, Cortez Kennedy, Charles Haley and Chris Doleman in the voters' debates.
For more NFL news, rumors and analysis, follow

@cbssportsnfl

on Twitter and subscribe to our
RSS Feed
.