Posted by Andy Benoit

1. Rodgers making the most of his time

We speculated before the game that Dick LeBeau would elect to drop back and play coverage against Aaron Rodgers. After all, when the Steelers blitzed Rodgers in the 2009 regular season matchup, they got t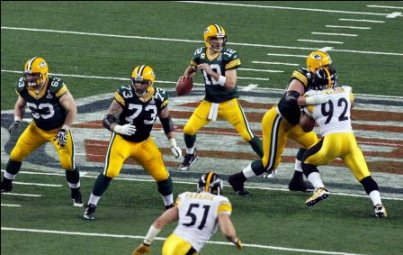 orched for 36 points.

Well, that speculation was prescient. Just as he did in the Super Bowl two years ago, LeBeau often kept safety Troy Polamalu in deep coverage. LeBeau's bet was that outside linebackers James Harrison and LaMarr Woodley could abuse Green Bay's edge pass-blockers. But with the exception of one James Harrison sack, that was not the case. Give a world of credit to Chad Clifton and Bryan Bulaga.

Polamalu played closer to the line of scrimmage in the second (including as a slot corner), but that did not disrupt Rodgers' rhythm. As has been the case all postseason, Rodgers was terrific in his presnap diagnostics. And with solid protection, he was able to buy time in the pocket and work through his progressions. His poise allowed him to finish 24 of 39 (with six drops, no less) for 304 yards and three touchdowns.
2. Effective running

The Packers did not make the run a staple of their offensive gameplan (again, no surprise – they were facing the third best run defense in NFL history), but they made the absolute most of the rushing attempts they did have. James Starks finished with 52 yards, 37 of them coming in the first half. He had crucial gains of 8 yards, 7 yards, 12 yards and, most notably, in the fourth quarter, 14 yards.

The common thread on all these plays was that Green Bay attacked running. The Packers knew they didn't have the oxen to move nose tackle Casey Hampton, so they attacked the edges. Brilliantly, they used slow developing runs to do this. This caused the aggressiveness of the outside linebackers to work against the Steelers. It probably wouldn't have worked if Polamalu had lined up in the box.
3. The mismatch

For the past two years, the weak link of the Steelers' secondary has been cornerback William Gay. The Packers sought out Gay early and often Sunday. Jordy Nelson beat him on a fade route on the opening touchdown (this would be a harbinger for the rest of the game, as Nelson finished with nine catches for 140 yards and was targeted 15 times). When Gay lined up inside, the Packers were able to exploit him with crossing patterns.

To be fair, Gay was not the only Steelers defensive back who struggled. Troy Polamalu took a few bad angles in coverage (including in the red zone) and Ike Taylor gave up a crucial 31-yard completion on third-and-10 to Greg Jennings in the fourth quarter.
4. Packers front seven (or eight) stepped up

The Packers were without athletic outside linebacker Erik Walden (high ankle sprain) this game. But replacement Frank Zombo stepped up big. He took on blocks extremely well and – for the most part – held the edge against the run. He also sacked Ben Roethlisberger in the third quarter.

A bigger injury was the loss of roving defensive back Charles Woodson. His absence was felt when Pittsburgh came out and completed crossing patterns passes and moved the chains on off-tackle runs early in the third quarter. Dom Capers was tempted to get conservative and utilize more traditional 3-4 fronts, but ultimately he tapped Jarrett Bush to play the joker role and stuck with the 2-4-5 that, all season long, has brought Green Bay magnificent success. Bush responded well (the design of the scheme gave him a clear pass-rushing lane or two) and the Packers defense avoided sliding down the sli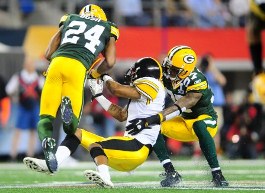 ppery slope they had found themselves on.
5. Pass-rush forced turnovers

Roethlisberger's two first half interceptions that led to 14 Packers points were the product of bad decisions by the quarterback. But those bad decisions were the product of pass-rush pressure. Massive defensive lineman Howard Green ran into Roethlisberger on the first interception (the Nick Collins pick six). On the second pick, Roethlisberger felt his pocket collapsing and, uncharacteristically, floated the ball around A.J. Hawk and into double coverage.

Clay Matthews did not have a dominant game, but he got inside the Steelers' heads somewhat by delaying his blitzes. Capers had Matthews line up as a quasi-inside linebacker early on. It looked like Matthews was spying Roethlisberger, but you don't spy a non-Michael Vick quarterback with your superstar pass-rusher. Really what Matthews was doing was waiting for the Steelers offensive line to commit itself to a pass protection maneuver, then attacking. It was a shrewd concept given that the Steelers have struggled with pass protection communication at times this season, and given that they were without center Maurkice Pouncey.

Pass-rush pressure is about more than sacks. Green Bay's front seven attacks disrupted the Steelers in subtle but costly ways.

[More Super Bowl coverage]

For more NFL news, rumors and analysis, follow @cbssportsnfl on Twitter and subscribe to our RSS Feed.