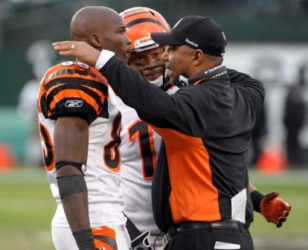 Posted by Josh Katzowitz
As far as coaching-media relationships are concerned,
Bengals
coach Marvin Lewis doesn't have a great one with the Cincinnati scribes. He clearly doesn't like having to deal with the media – considering I used to cover his squad, I can't blame him on this point, because I know well the heathens that cover the beat – and he can be smug and condescending.
But sometimes, if you can get Lewis one-on-one or in the right situation (he once held an hour-long film session for the scribes so he could help us better understand linebacker terminology), he can be loquacious and friendly and fill up your notebook with strong quotes.
And when it comes to WR
Chad Ochocinco
lately, Lewis has had no problem speaking his mind. While speaking to the
Cincinnati Enquirer
and
Bengals.com
at the owners meetings in New Orleans, Lewis had a few things to say about his star/standoffish WR.
When asked about whether he expected Ochocinco to return to Cincinnati next season, he said: "Chad has a contract. The biggest thing about Chad - and obviously I've had a lot of time invested in Chad Johnson - he's at a point in his life and career (where) hopefully he will continue to mature as a person and be a productive football player and person as he goes forward. To me looking at Chad, where is his life going to be in five years? As far as a football player he's under contract and we'll continue to evaluate things as we move forward."
Then, Lewis really let off a good one. Asked about
Ochocinco's tryout with the Kansas City MLS team,
here's what Lewis had to say.
"Yeah, like he could make a soccer team. ... What has he ever done that he's completed? What circle has he ever connected?" Lewis said.
Which prompted this response from Ochocinco
on Twitter:
"Marvin Lewis won't say anything bad about
Carson Palmer
, stays kissing his ass, but disses @ochocinco daily" and "RT @BlkSportsOnline: Carson Palmer has given a big F-U to Marvin Lewis, but Lewis steadily says how wonderful he is. Makes Lewis a #hypocrite."
At this point, it doesn't sound like Lewis really cares what the thin-skinned Ochocinco thinks about him.
For more NFL news, rumors and analysis, follow @cbssportsnfl on Twitter and subscribe to our RSS Feed.